Word from the CEO
The most eminent topic of this quarter was inarguably the Sibos conference that took place in London. As it is our habit to exhibit at Sibos, we had the pleasure to participate this year and take the chance to mingle with the international financial and banking community. We made sure to display our profile on a spacious stand not too far from SWIFT's and amidst our peers and clients. We noticed great interest in our offered solutions showed by the enormous number of visitors we witnessed at our stand. We were approached by a number of companies offering joint ventures and cooperation knowing that we are always looking forward to widening the dimensions of our business and to serve the best to our clients. We had the chance to meet with existing and potential clients as well, as Sibos offers a fascinating medium to socialize with bankers and discuss their challenges and their priorities. We get to delve deeper into these challenges and get insights from different sides of the financial industry. Sibos has always been about making the financial industry worldwide more reliable, secure, and transparent. Hence, the hottest and most talked about topics have been namely Information Security and SWIFT gpi. We engaged with our clients and showcased our solid security solutions and our gpi-PRO, the powerful gpi handler, among other vast diverse solutions we have developed over the years.
We consider it to be a successful and fruitful conference and it is always our pleasure to be part of it. On the same hand, we will be participating in the upcoming SWIFT Regional Conference: Turkey & Middle East in Istanbul. This conference is said to bring together industry leaders and financial experts from across the region to do business and shape the future of the financial industry.
Apart from SWIFT events, we are holding roadshows in Bahrain and Egypt this December. Throughout these events, we will be launching our latest products: AEG gpi-PRO and AEG Payment Control and Monitoring Application.
On the other hand, we are expanding our reach to Europe through building a new data center in France in cooperation with our business partner Sonema. This data center is intended to provide more capacity to incorporate customers with bigger demands and to act as an additional disaster recovery site for banks and companies connected to us. We always do our best to serve the best to our clients and make sure they are fully covered.
Dr. Mohamed Sadek – CEO and General Manager
AEG was delighted to participate and exhibit at Sibos 2019 in London. This year's Sibos conference theme was "Thriving in a hyper-connected world," recognising the growth opportunities available from digital technologies to initiate new platforms, value propositions and business models. It was a very successful conference, with over 11,000 participants sharing and exploring the latest finacial topics and trends. AEG's stand was busy with visitors interested in its products and services on one hand, and in partnerships and joint ventures on the other.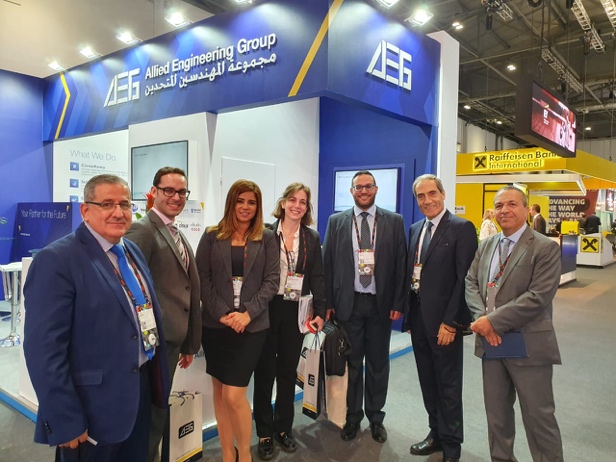 We had the chance to meet with existing and potential clients and introduce to them our latest solutions that address their needs and concerns while keeping up with the latest technologies in security, blockchain and payment. Moreover, we met with business peers and discussed future potential partnerships and doing business together that would be of added value to both parties and that would best serve our clients.
AEG Payment Control and Monitoring Application
This inhouse solution was developed to address CSCF controls, especially CSCF v2019 Transaction Business Controls which objective is to restrict transaction activity to validated and approved counterparties and within the expected bounds of normal business. AEG Payment Control and Monitoring Application is designed to monitor intelligently the transactional activities at the bank internal environments. This solution helps identifying and blocking high risk transactions in case any fraudulent activity is detected. In addition to controling and monitoring transactions, it generates payment reports and assures network to SWIFT system reconciliation.
For more information, contact your account manager here
Our gpi Project in Bahrain
SWIFT Global Payment Innovation (gpi) is the latest initiative launched by SWIFT which aims to elevate customer experience for faster transactions with higher transparency. With banks aspiring to be gpi-certified, the ability to automate the internal process of tracking and updating SWIFT gpi payments such as MT103 and MT202COV requires integration with the Core Banking Systems in a reliable and effective manner. Hence, AEG gpi-PRO was developed to address banks' needs in that area.
AEG Bahrain was able to secure a strategic project with one of the largest banks in the region Ahli United Bank (AUB). This opportunity helps to establish the AEG gpi-PRO's foundation on one of the most sophisticated IT infrastructures in the market. This, not only ensures the proof of concept of the gpi-PRO, but also provides the team with the confidence that the gpi-PRO can be implemented in the majority of banks in the market and the region with similar or simpler infrastructures.
AEG has provided Ahli United Bank Bahrain with the ability to integrate with its core banking systems and to update the gpi tracker while maintaining the Unique End-to-End Reference (UETR) when available and to inject a UETR for newly created messages from the Back-Office applications if needed.
AEG gpi-Pro has a User Interface platform which allows users to manually update the status of gpi payments with a maker-checker functionality. The user interface also allows the bank to search the statuses of messages – a feature that improves business efficiency.
Banks which are gpi members have an SLA with SWIFT and their gpi performance is monitored by an observer. AEG gpi-PRO is able to update the tracker with gpi payments at certain time intervals to ensure that the bank retains a high score with the observer and remains a favorable bank to send the gpi payments through. The user interface has other functionalities such as uploading the gpi-directory, extracting excel/PDF sheets for payments with certain statuses, and having a tracking chart which shows the sender and receiver of each message if applicable.
Many additional features were accomplished by our team to ensure AEG gpi-PRO's well-roundedness such as the improvements on our Security Definitions module to accommodate assignment of core banking applications to users' views within gpi-PRO, internal/external Notification System for gpi-related events and many more features that make the user's experience more adequate and less complicated. Further, the upcoming version will include compatibility with SWIFT Stop-and-Recall functionality gSRP and enhancements to the user interface.
The project status in Bahrain is currently in UAT phase and the bank is planning to go live with it after passing the SWIFT gpi certification very soon.
SWIFT has announced the release of version 7.4 in July 2019. All banks are recommended to upgrade to this version to meet the SWIFT standard release 2020, but first it is required that all third party products are compliant to the new release. For the convenience of our customers, we have upgraded all our inhouse products and applications to be compliant with the new release. We recommend that all our clients contact their 3rd party providers of applications to make sure that their components are compliant with 7.4.
We would like to note to our esteemed clients that the support for SWIFT version 7.2 ends in January 2020, and that of version 7.3 ends in April 2021.